We invest in Class B apartment communities constructed from the mid-1990s to 2020. We grew up managing multi-family housing beginning in 1970 and have learned how to create value by operating more than 78,000 units nationally since then. We perform some of the most extensive due diligence in the industry as we assess the risk of each asset we acquire as well as the upside potential. Our approach to managing risk includes identifying as many margins of safety as possible. We only invest in the right assets at the right time and never because we are driven by capital deployment pressures.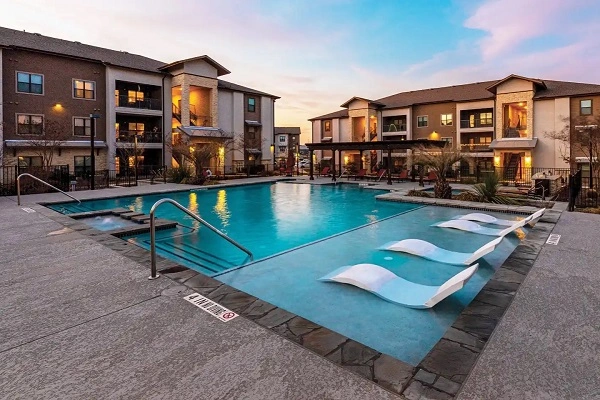 Our approach leverages these key factors:
A growing number of Baby Boomers, Millennials, and Zoomers (Gen Z) who rent by choice.
A growing annual shortfall of 100,000 to 175,000 units in suitable housing nationally.
A rent differential between Class A and Class B apartments of as much as $500 in some markets.
Physical improvements to unit interiors, building exteriors/common areas, and upgraded amenities help our Class B apartments to mimic Class A product.
The debt load for our market-rate apartment portfolio is less than 70%.
A deep understanding of the markets in which we invest down to specific neighborhoods.
Acquisition Selection Approach
Extensive market due diligence based on eight key criteria.
Trends driving multifamily growth, with one neutral component.
We find the right asset, in the right location, at the right price. This is a highly selective process.
We look at ~3,000 apartment offerings on an annual basis.
~500 offerings will meet our initial requirements in terms of market fit, acquisition parameters, a good "story," etc.
~100 will meet our requirements for minimum annual household income, low crime statistics, increasing median home values, and post-renovation Class B rents that will be at least 25% below Class A rents in that area.
We will bid on approximately 50 offerings that meet our underwriting requirements for stabilized yield on cost, initial capitalization rate, post-renovation rent-to-income ratio, rent vs. own cost advantage, anticipated cashflow, forecasted internal rate of return, projected equity multiple, and expected price per unit on sale.
The bidding process is always competitive, and we usually win 6-8 new properties per year.
Disposition Track Record
Cohen-Esrey Apartment Investors, LLC (CEAI) has excelled in acquiring apartment communities of 200-units and larger in the 100 largest MSAs as well as several smaller tertiary markets. Today, our primary focus is on serving the increasing demand of those renting by choice: retiring Baby Boomers, Millennials, and Zoomers. We acquire and renovate properties of 200-600 units located in markets with strong population growth, job growth and Class B rent growth. We stay away from hurricane surge zones, and do not invest in the Northeast or on the West Coast- regions where we typically don't find opportunities that align with our investment criteria. Typically, the properties in which we invest require only light physical improvements in the range of $3,000 to $10,000 per unit with an opportunity to re-position the property in the market.
Property Name
Location
Units
Purchased
Sold
Projected IRR
Actual IRR
Fund
Actual Weighted IRR:
22.01%
Showing acquired and sold since 2011.
Note: Past performance is not indicative of future results.
Centerville Pointe
| | |
| --- | --- |
| Location: | Garland, TX |
| # of Units: | 250 Units |
| Property Type: | Mixed – Market Rate and Affordable |
| Year Acquired: | 2016 |
| Year Sold: | 2021 |
| Fund: | Fund XXIII |
| Projected IRR: | 18.35% |
| Actual IRR: | 21.70% |
Centerville Pointe Apartments is nestled in the Dallas suburb of Garland, Texas. This 250-unit, townhome style community offers two, three and four bedroom apartments and townhomes with classic amenities including a sparkling swimming pool with sundeck, on-site fitness center, basketball court, clubhouse and playgrounds. Centerville is a mix-income development with superior access to fantastic dining and shopping options very close by, and easy access to Interstate 635 and Interstate 30 all being a short 20-minute drive from downtown Dallas.

Cohen-Esrey purchased this community in the second quarter of 2016. Following its acquisition, major renovations took place. Exteriors were refreshed with new landscaping, fencing, and roofing systems as well as new amenities such as pool furniture, new basketball and volleyball courts, and signage. Newly renovated units enjoyed new flooring, fixtures, cabinets, and counters. The upgrades also included all new kitchen appliances.

The Centerville renovations successfully lifted rents. One of the key drivers for buyer interest was the community impact component of this property. On April 1, 2021, Centerville was sold, resulting in a 21.70% IRR for Fund XXIII investors, which exceeded the initial IRR projection of 18.35%.
The Grove at Trinity Pointe
| | |
| --- | --- |
| Location: | Cordova, TN |
| # of Units: | 464 Units |
| Property Type: | Market-Rate |
| Year Acquired: | 2016 |
| Year Sold: | 2021 |
| Fund: | Fund XXIII |
| Projected IRR: | 15.00% |
| Actual IRR: | 19.91% |
The Grove at Trinity Pointe is a lushly landscaped gated community with extensive amenities located on the main artery North Germantown Parkway nestled between Cordova and Germantown, two of the top apartment submarkets in the Memphis area. The convenient location has shopping, dining and entertainment within walking distance. The area is seeing strong economic and demographic growth which spurred the opening of a super-regional mall, Wolfchase Galleria, just 4 miles north of the property. Retail development has continued along the North Germantown Parkway commercial corridor, including upscale offerings in Germantown such as Whole Foods and an Apple store.

The Grove at Trinity Pointe represented a unique asset with a strategic location in-line with similar vintage peers. However, the property's rents lagged nearby competition by a substantial margin. Purchased from BRT Realty Trust and Arenda Capital Management LLC, Cohen-Esrey and its partner group closed the 390,515-square-foot multifamily complex on March 2, 2016 and began implementing $1.8M in physical improvements.

The Grove at Trinity Pointe was an excellent apartment investment as the Cordova submarket has experienced a limited apartment development pipeline since 2000. With the area's strong population growth in the last 15 years, apartment demand had well outpaced supply. Cordova was primed for continued apartment demand. Cohen-Esrey and its partners expected a healthy return on this investment as improvements were completed and rental income increased to match the market average.

As expected, the Cordova submarket demand remained strong. Key drivers to buyer interest included employment trends, geographic location, and value-add opportunity that still existed for the property. On May 25, 2021, The Grove was sold, resulting in a 19.91% IRR for Fund XIII investors.
Sandtown Vista
| | |
| --- | --- |
| Location: | Atlanta , GA |
| # of Units: | 350 Units |
| Property Type: | Market-Rate |
| Year Acquired: | 2016 |
| Year Sold: | 2021 |
| Fund: | Fund XXIII |
| Projected IRR: | 15.00% |
| Actual IRR: | 27.85% |
Sandtown Vista is a Class B+ institutional quality asset completed in 2010, and is strategically situated in Southwest Fulton County's sought-after and affluent Sandtown Overlay District. Located just four miles west of Interstate 285 and south of I-20, Sandtown Vista residents enjoy direct access to Downtown Atlanta, Hartsfield Jackson International Airport, the thriving Douglas County area to the west and connections to other Atlanta attractions. The community offers one, two and three bedroom apartment homes with gated access, 9' ceilings with crown molding, washer and dryer connections in unit, private patio/balcony, breakfast bar and ceramic tile entry. On the exterior, residents enjoy a business center, spin studio, swimming pool with water feature, picnic areas, playground, dog park, covered car care center, Wi-fi in all amenity areas and sprinkled buildings.

Cohen-Esrey acquired Sandtown in fourth quarter 2016. The proposed upgrades to the units were new backsplashes, new painting, new light fixtures, and an updated look and feel to the units. On the exterior, a new resort style grill and cabana area to expand the pool along with updated landscaping and additional amenities added to the upgraded feel of Sandtown Vista.

The Sandtown renovations successfully lifted rents. A combination of submarket growth, opportunity for additional value-add, and the relatively newer vintage drove buyer interest. On April 26, 2021, Sandtown was sold, resulting in a 27.85% IRR for Fund XXIII investors which exceeded the initial IRR projection of 15.00%.
Fairways at Lincoln
| | |
| --- | --- |
| Location: | Lincoln, NE |
| # of Units: | 612 Units |
| Property Type: | Market-Rate |
| Year Acquired: | 2018 |
| Year Sold: | 2021 |
| Fund: | Fund XXIII |
| Projected IRR: | 18.30% |
| Actual IRR: | 18.94% |
From the outset, Fairways at Lincoln proved to be a unique asset in many ways, representing a whole host of "firsts" for CEAI. As the first market-rate property we have owned and operated in Lincoln, NE, Fairways also remains the largest property in terms of unit-count that CEAI has acquired to date, at 613 units. Additionally, the property was the first we have owned that came with a PGA-qualified golf course attached, as well as the first acquisition undertaken with the institutional-investor, Blue Vista, as the Limited Partner.

Given the property's strong performance and Lincoln's long-standing reputation as a business-friendly and economically resilient market (spurred on by the light tax burden, low unemployment rates, affordably high standard of living, and anchored by the University of Nebraska and the Nebraska State Capital), we knew that the asset would certainly attract the attention of local and regional multifamily investors looking to capitalize on the remaining value-add runway onsite. Our investment thesis proved to be true in captured rental rates, which increased from an average of $750/month when we purchased it to $930/month when we sold it.

After a robust interview process, CEAI hired the brokerage firm Northmarq to market the property. Utilizing their network to leverage buyer relationships across the industry, Northmarq collected 24 written Letters of Intent (LOIs) from local, national, and even international investors across 15 states and two countries. The property ultimately sold for $9 million higher than our originally projected sales price, with the sale occurring more than one year ahead of schedule. Ultimately, the sale of Fairways surpassed even our own expectations.